Photo Restoration And Enhancement
Restore your valuable family photos and pass them to the new generations, our photo restoration and enhancement services meet your needs. Vivid Photo has been providing photo restoration, retouching and enhancement services for over twenty years. Our experience and expertise in photo restoration and enhancement will ensure your valuable photo's quality.

Restore Crack & Faded Photo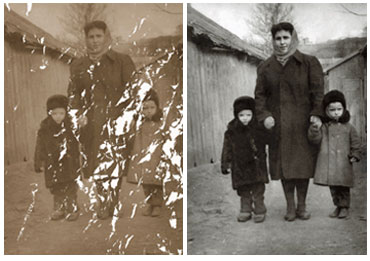 Restores damaged photos, we not only can fix
your damaged photos, but also can enhance
the quality of the photos. We make the photo
clearer and sharper. We also restore the faded
photos to bring it back like new.
We provide express services.
Clean Photo Stains & Fix Damage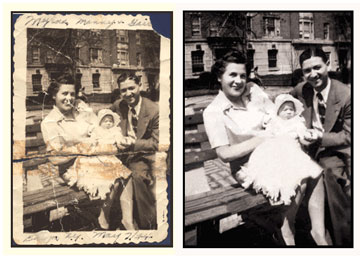 Clean stains on the photo, fix damage and
enhance colors. See the difference before
and after the photo restoration. Our
experience and expertise in photo
restoration provide the highest possible
quality.
Missing Part, Damaged, Faded Color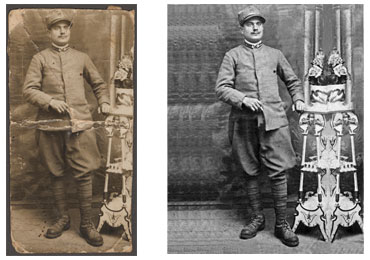 Restore the missing part of the photo.
The photo will look like a completed
photo.With fixing the damaged and color
enhancement, the photo looks like new.
We restore your old faded, damaged and
missing part photos.

Restore Faded Color Photos
Your valuable old photos can refresh your
memory of the good old days. But the color
of the old photos could be faded or damaged
since it has been a long while after it was
taken. We restore your old faded and damaged
photos. It will look like new.